Key Stage 1
Welcome to our key stage 1 page! In key stage 1, we have 5 classes with up to 30 children in each. There are two year 1 classes (children aged 5-6), two year 2 classes (ages 6-7) and a mixed year 1 and 2 class (ages 5-7).
As well as our class teachers, there are a number of teaching assistants who support the children within key stage 1. These are: Mrs Dyson and Miss Peskett who work mainly alongside year 1 classes, and Mrs Godbehere who works with the year 2 classes. The Leopards children work with all 3 teaching assistants across the week.
Home Learning
Letters regarding home learning are emailed to parents on a fortnightly basis. The Leopards, Tigers and Pandas all work together to send out one letter and the Kangaroos and Zebras work together to send out another.
Curriculum Information
All of the key stage 1 classes follow a 2 year cycle of topics so as to cover the National Curriculum content. These cover areas such as: Geography, History, Science, PE (physical education), Art, Music, DT (design technology), Computing and RE (religious education).
Our current topic is called 'Inventing and Creating.' Please look at the Curriculum page for further information about the learning that will take place.
English and Maths are taught in all of the classes. However, the order in which skills or concepts is taught will vary in each class and year group because of a number of factors. Please take note of your child's news letters which will keep you informed about what your child will be/has been learning in these areas.
Mr Knight recently spoke to parents in year 2 about calculation methods. Please find the video below from this talk. We hope it helps!
Look at what we've been learning in our classes!
Week Beginning 12th February 2018
In the Leopards this week we have really enjoyed a number of subjects. On Wednesday, one of our parents (Mrs Judge) came into school to lead us in a design and technology lesson. We looked at the Little Miss Inventor resources and drew designs for keeping Mr Bump safe.
In our English lessons, we've been writing descriptions based on 'The Black Hat'. A copy of the film can be found here: https://www.literacyshed.com/blackhat.html . The children wrote their own descriptions about walking into the forest before finding a hat. They then wrote about what happened next.
Our Maths lessons have been focussed on reading scales. The children have been using rulers, measuring cylinders and weighing scales to explore measures, gain familiarity with different units and read a measure accurately.
Week Beginning 5th February 2018
In Tigers this week we have really enjoyed creating our own dance to some songs from 'The Lion King'. Our favourite is 'Circle of Life' and we really got into character becoming lions and thinking about the way they move!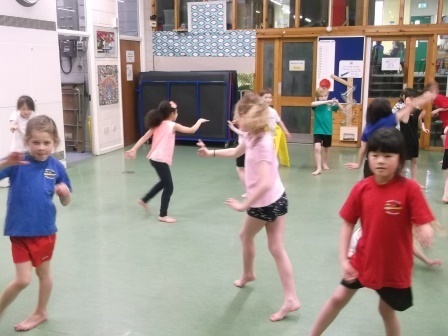 We used different levels and timings to make our dance effective to watch.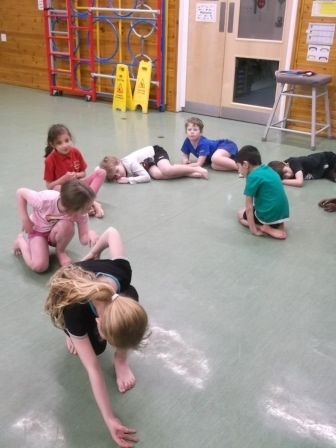 As well as dancing, this week we have been learning to rap! We even wrote our own extra lines to add to the song "Grandma Rap" and came up with actions to perform.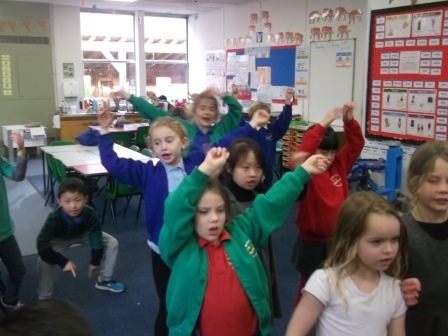 Week Beginning 29th January 2018.
In Kangaroos we started off the week with our 'History of Toys' topic. We looked at modern day toys and the children enjoyed bringing in a toy from home and telling their peers all about it. We looked at the materials they were made from and we worked with a partner to think of as many different adjectives as we could to describe our toys.
In our English lesson the children wrote a description of their toy and then read it back to the class. We listened carefully to the adjectives they used to see if we could guess which toy was being described.
In computing, we had fun using the Easi-Speak microphones to record a description of our toys. We played it back through the computer and the other half of the class had to listen carefully to see if they could recognise the toy being described and which child was describing it.
In Science, we continued our topic on 'Materials' by looking at the different properties that they have. We chose some objects, we named the material they were made from and then we described how they looked and how they felt.
On Wednesday we walked to the Beacon Methodist Church as part of our topic on 'Places of Worship'. Reverend Will Fletcher told us all about the church and the different parts of a church. We then went on a treasure hunt to see if we could find the following special features:
font organ pulpit Bible hymn book communion glasses
Week Beginning 22nd January 2018
In Pandas we began the week with learning about the Titanic and the children went into the hall which had been transformed into rooms from the ship itself! We spent time exploring each of the rooms and thinking about what may have happened in them and who may have used them. The children went on to do some research using books and this helped them to create a time line. This research enabled us to generate questions and inspired us to write our own version of the historical events which took place. We were also very excited when Mr Knight showed us an authentic plan of the first class accommodation on the Titanic which had been kindly lent to us by Mrs Fletcher. This prompted the children to share their thoughts on which class of passenger they may have been if they had been on the ship!
Week beginning 15th January
This week in Zebras we have already enjoyed making our own clocks, writing snowy Winter poems, some brilliant ball skills in PE, and our very well attended maths open morning and it's still only Tuesday! Thank you to all the parents who were able to stay and support our children in their maths learning. We had fun looking at all sorts of ways of solving maths problems and puzzles and showing the parents the various apparatus that we use to help us. We hope they enjoyed it as much as we did.
The snowy weather gave us much inspiration for writing Winter poetry where we focused on using adjectives to describe Winter. We worked with partners to think of suitable adjectives and then wrote our own poems. Check out our poetry displays in the classroom and the main entrance to school.
Week beginning 8th January
Happy New Year! We have enjoyed seeing one another again and have spent some time catching up and sharing what we did during the holidays.
This week, in the Leopards, we have been working hard. The main things that we have focussed on are: time, in maths, and using different sentence types in English. All of the children have worked really hard and have shown a great understanding of the concepts that we've been covering.
In maths, the year 2 children have been concentrating on finding the time to the nearest 5 minute interval and the year 1 children to the nearest quarter hour. Some children, from both year groups, have shown that they can tell the time to the nearest minute!
Our English lessons, have introduced using apostrophes for contraction e.g. do not becomes don't, and looking at how we can use different sentence types to write information about ourselves.
The photos below show some of the work from our class this week. They include photos of paired reading, working together to tell the time to the nearest 5 minute interval and some examples of writing that the children did. How many sentence types can you see in the children's work?